The Ohio Tree Climbing Championship (Ohio TCC) provides a platform for the Chapter to showcase the arboriculture profession to the public and provide educational opportunities. Attracting 30 male and female competitors, 50+ volunteers, and spectators on an annual basis, this event focuses on safety, promoting the arboriculture profession, and heightening public awareness.
Contestants compete in five preliminary events to qualify as one of the top contestants to earn the right to advance to the championship round – the Masters' Challenge. The preliminary events include Ascent, Belayed Speed Climb, Aerial Rescue, Work Climb, and Throwline. The top in-state contestants who have accumulated the highest combined point totals for the five preliminary events advance to the Masters' Challenge. Out-of-state climbers may participate in all preliminary events and are eligible to place in these events. Only in-state climbers can advance to the Masters' Challenge.
The male and female division winners of the Masters' Challenge will have an opportunity to represent the state at the following International Tree Climbing Championship (ITCC).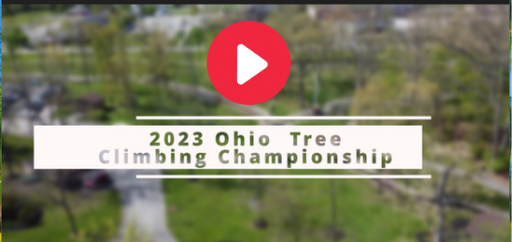 MAY 6, 2023
American Legion Park, Marysville, OH

MASTERS' CHALLENGE

Men's Division

Women's Division

1st Place

2nd Place

3rd Place

Dustin Ford (Score 269.67)

Sam Baltodano (Score (268.67)

Jacob Nau (Score 177.33)

Jenny Rexroad (Score 186.33)

Brittany Horne (Score 0)

Aerial Rescue

1st Place

2nd Place

3rd Place

Evan Beck (OH-Score 43.00)

Dustin Ford (OH-Score 42.67)

Cody Schwartz (MI-Score 42.33)

Jenny Rexroad (OH-Score 35.67)

Mackenzie Hordyk (Canada-Score 27.67)

Brittany Horne (OH-Score 22.33)

Ascent Event

1st Place

2nd Place

3rd Place

Cody Schwartz (MI-Time 14.05)

Dustin Ford (OH-Time 16.05)

Jacob Nau (OH-Time 19.49)

Mackenzie Hordyk (Canada-Time 27.32)

Jenny Rexroad (OH-Time 37.42)

Belayed Speed Climb

1st Place

2nd Place

3rd Place

Sam Baltodano (OH-Time 15.26)

Bailey Hordyk (Canada-Time 18.13)

Dustin Ford (OH-Time 19.07)

Mackenzie Hordyk (Canada-Time 41.39)

Jenny Rexroad (OH-Time 49.26)

Brittany Horne (OH-Time 95.90)

Throwline

1st Place

2nd Place

3rd Place

Cody Schwartz (MI-Score 27)

Stephen Borton (OH-Score 22)

Jacob Nau (OH-Score 22)

Mackenzie Hordyk (Canada-Score 17

Jenny Rexroad (OH-Score 9)

Brittany Horne (OH-Score 3)

Work Climb

1st Place

2nd Place

3rd Place

Nick Markley (OH-Score 39.80)

Jacob Nau (OH-Score 37.39)

Evan Beck (OH-Score 36.24)

Jenny Rexroad (OH-Score 60.67)

Mackenzie Hordyk (Canada-Score 16.00)

Brittany Horne (OH-Score 9.00)